Welcome to the pushingnormal shop
Looking for Xmas Cards?
Find details on my Facebook page or get in touch here.
Please note: My prints are produced in very small runs and may be available in other sizes or even framed, which for practical reasons are not included online. I also produced high quality prints of commissioned portraits and artwork.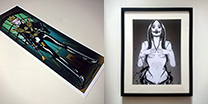 In short: If you don't see what you're after feel free to get in touch here or via one of my links...
facebook.com/pushingnormal
instagram.com/pushingnormal
twitter.com/pushingnormal
Other Options
£12.00
+ £4.00 UK P&P
OUT OF STOCK